$250.00 – $300.00
THIS CLASS IS NOW FULL
Call 520-884-7814 to be put on a waiting list
ADULT SUMMER CAMP
ALL STUDIOS
MONDAY, JUNE 25 – THURSDAY JUNE 28
6:00PM-9:00PM
No experience required
Stay cool and creative with evening classes for adults. This June we invite you to experience our new Adult Summer Camp and make projects in all our studios during Tucson's cooler evenings.
JUNE 25 | Monday: Glassblown Salad Bowls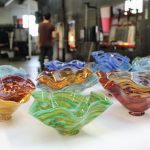 In this class you'll learn the fundamentals of glassblowing followed by a mini-class in making bowls. You'll pick out the colors and design elements for your bowl and then work with an instructor to make the piece. Using your breath and our glassblowing tools, you'll create a bowl of your own design that you can use for summer dinner parties.
JUNE 26 | Tuesday: Summer Flower Vases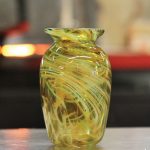 Now that you've had one lesson in the Hot Shop, you can take things a step further by making a glassblown vase of your own design! Make a flower vase that's a great talking piece for your home.
JUNE 27 | Wednesday: Birds, Nature, and Scenery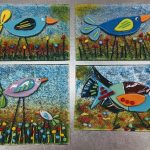 Learn to create simple, geometric birds as well as the backgrounds that complement them. You'll create one or two fused pieces depicting scenes of a bird and its surroundings in beautiful colors.
JUNE 28 | THURSDAY: Fish & Shells on the Torch
Tap into the coolness of the ocean when you learn to create beads based on fishes and sea shells. You'll work on the torch to arrange and shape glass into these ocean themes. Once done, you can place these beads on a necklace for some poolside bling.
Additional information
| | |
| --- | --- |
| Membership: | Member, Non-Member |