Saturday & Sunday | October 7 & 8, 2017
10AM-3PM


Free and open to the public




633 W. 18th Street
CALL TO ARTISTS! If you would like to submit glass artwork for this event and the Opening Reception on Friday, Oct. 6th, follow the directions in the Call to Artist Form.
---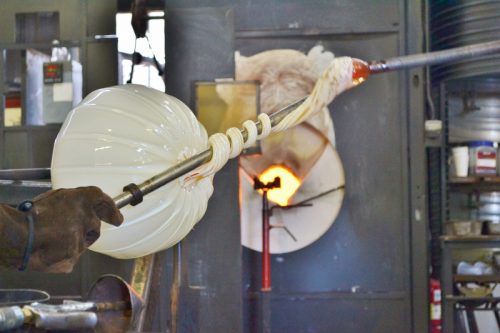 ABOUT
EXPLORE glass art pumpkins patches and a fall-themed gallery. 
ENJOY free admission and exciting glassblowing presentations. 
CREATE your own glass pumpkin or other project in the studio. 
SUPPORT nonprofit glass art education in Southern Arizona.
It's back!!! The Pumpkin Fiesta returns to bring you fiery glass art experiences and a huge pumpkin patch of this year's pumpkins made by our glass artists. There are new surprises for this year too with an expanded body of fall-themed work on display including leaf-pattern fused pieces and handblown pitcher sets.
---
GLASS ART EXPERIENCES
After exploring glass pumpkins of all shapes, sizes, and colors, your own in the studio with us! No appointment* or experience necessary. 
The Make Your Own Pumpkin Experience let's you play with studio glass in a guided atmosphere. For $85 you will choose the colors and design elements for your very own perfect pumpkin. Our instructors will take you through all the steps and you will tools and your own breath to shape the piece.
All of our studios are offering hands-on experiences too. Fall themed projects like Pumpkin Fridge Magnets ($10), and Fall Leaf Drink Stirrers ($15)
---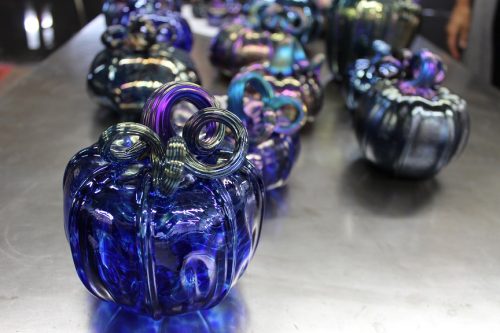 SUPPORT
Celebrate fall and support glass arts education at the Pumpkin Fiesta, an annual October event featuring hundreds of handmade glassblown pumpkins on display, live furnace glassblowing, and Make Your Own activities…all in support of Sonoran Glass School.
Admission is free and all proceeds from pumpkin sales and experiences support the 501(c) 3 nonprofit Sonoran Glass School and its mission and community programs.
The event also features a fall arts-and-crafts table for younger kids, cookies, beverages, and more.
All proceeds from pumpkin patch sales and experiences benefit the non-profit 501(c)3 Sonoran Glass School, and its educational programs. 
Sonoran Glass School is located at 633 w. 18th St near the Historic Barrio Viejo in Tucson, Arizona. (view map)
How Do You Make a Glass Pumpkin?
Examples of last year's pumpkins: