Sonoran Glass School
633 W. 18th Street
Sunday, Dec. 4th
10 a.m. – 4 p.m.
Free
Featuring:
-Live ornament glassblowing
-2016 Series of Handblown Ornaments
-Functional and decorative glass art gifts
-Special, no-appointment Make Your Own Experiences (Ornaments, Snowflakes and more! $10-45)
ABOUT
Explore our studios, gallery, and sculpture garden with friends and family. Shop for handmade glass art jewelry, housewares, ornaments, platters, sculptures, and decor. You can even Make Your Own Glass Art at this event through special in-studio experiences. Proceeds support glass art education in Southern Arizona!
---
2016 ORNAMENT SERIES:
A Season of ROYGBIV
For this year's open house, our glassblowing and torchworking artists are working with a different color that inspires them from ROYGBIV (Red, Orange, Yellow, Green, Blue, Indigo, Voilet [and black and white]).
Each artist has provided a statement and a bio for this colorful display of handmade glass holiday ornaments. Peruse the gallery during this special display!
---
HOLIDAY THEMED MAKE-YOUR-OWN EXPERIENCES
You can experience the glass arts for yourself, without an appointment during the Winter Open House. You will be guided by an experienced instructor every step of the way.
Make Your Own Glass Ornament is a quick 15-20 minute introduction to furnace glassblowing in our Hot Shop. You choose the color and style of your piece and then assist an SGS instructor in making the piece.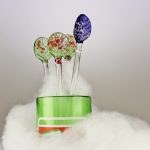 Check out the Flame Shop and try out the art of torchworking! Make a Holiday Candy Fridge Magnet ($15) using frit implosion technique. You can also make a or Holiday Drink Stirrer ($15) on the oxygen propane torch under the guidance of an instructor.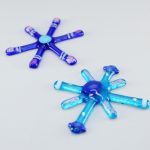 Head over to the Warm Shop for our new fused Frit Sparkle Snowflake Experience ($15)! In our kiln-fusing studio, you'll get to design your very own snowflake to hang from the tree or the window this holiday season. 
---
MEET SONORAN GLASS SCHOOL'S NEW EXECUTIVE DIRECTOR: LYNN DAVIS
Our new Executive Director, Lynn Davis will be at the open house and ready to meet-and-greet attendees and SGS members while answering any questions. Take this opportunity to say hi!